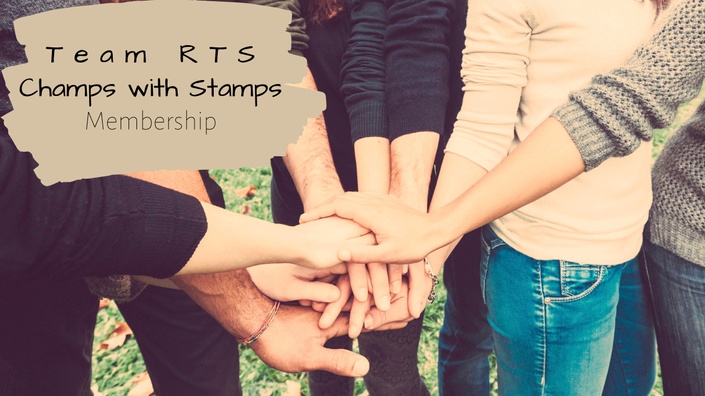 Team RTS: Champs With Stamps MEMBERSHIP
A place for passionate standy lovers to access quality resources, share experiences, feel supported & celebrate the 'little wins' along the retraining journey!
Join the Team - ENROL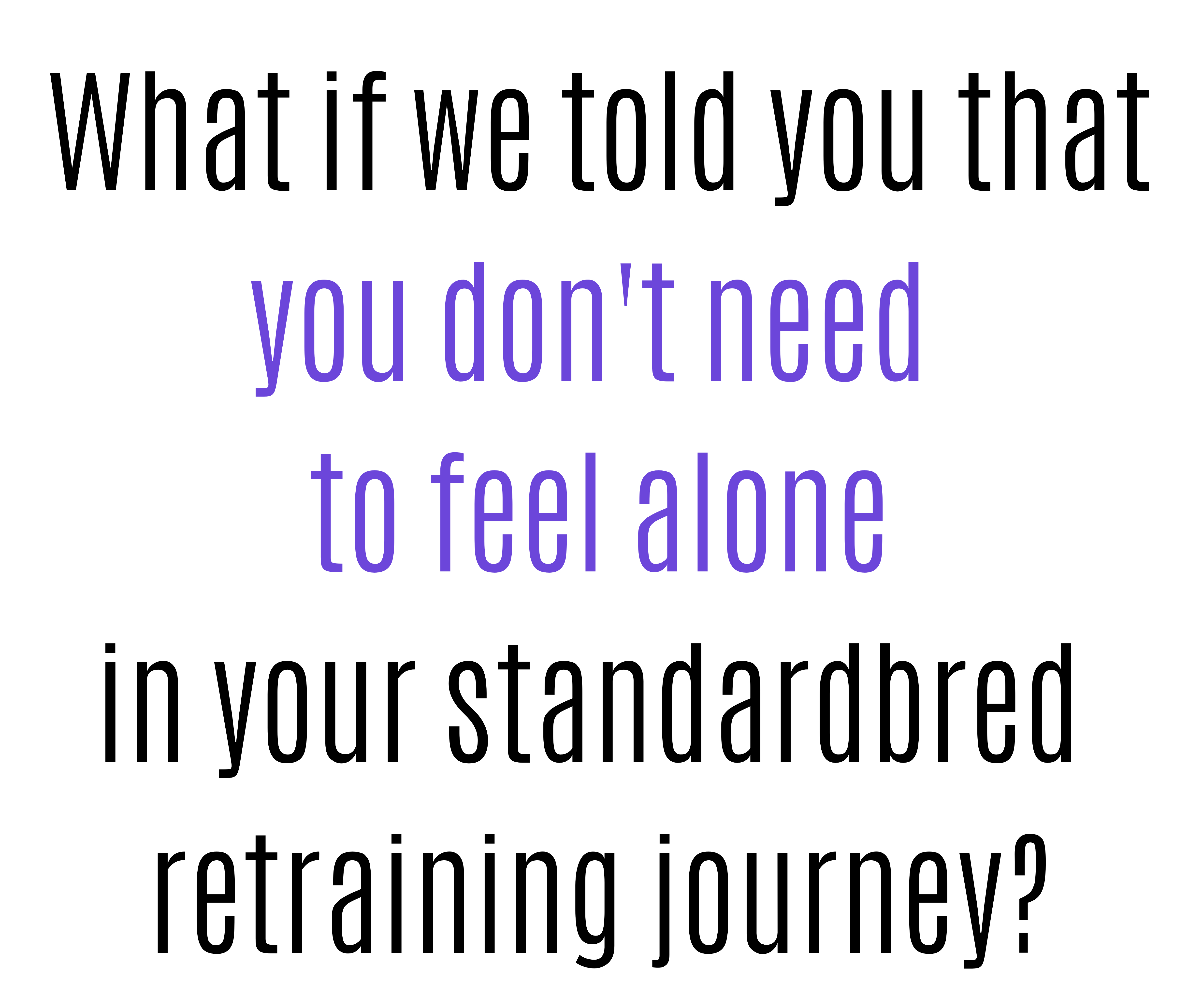 What if we told you that you don't need to feel alone in your

That there's an entire community of standy lovers, all sharing stories, troubleshooting problems, celebrating each other's successes (no matter how small) and learning together?
Well, there is! And this is your invitation to join the 'herd'.

If you can relate to any of the feelings below, Team RTS is totally for you:

Being confused about what you should be doing with your standardbred and how to overcome retraining challenges.
Feeling like nobody around you really understands your standardbred's quirky behaviour.
Feeling overwhelmed by the enormity of working with a green horse.
Isolation and loneliness, from not having standardbred friends to bounce questions off, or celebrate little successes with (yes, those first few canter strides are a big deal and you totally deserve a standing ovation!!!)
Being unable to find a local standardbred-friendly coach.
Lacking confidence or motivation to get out there and actually ride.
Struggling to fit horse pursuits into your busy life.


Put simply, it's an exclusive online space for passionate standardbred lovers to connect, share experiences, access quality resources, feel supported & celebrate the 'little wins' along the retraining journey.






We've taken our most popular standalone mini courses, and some of the special featured content from our two signature Standardbred retraining courses, and included them in a library of content for you to dive straight into as soon as you join the Team RTS: Champs with Stamps Membership.

Topics included cover some of the most common, confusing and sometimes frustrating retraining challenges , such as canter, pacing, nervousness & responsiveness.

In the retraining library, you'll find the advice that you need, tutorials that solve your headaches and the 'how-to' plans and strategies that will help you to conquer those real head-scratcher retraining issues that keep popping up in your workouts.

Best of all, these resources are entirely portable; access them from wherever you want, on all of your devices.

Ever felt like you're just going through the motions, riding the same workouts every. single. ride?
Yup, we've been there too.
To combat this for our awesome Team RTS members, we've created a jam-packed program of consistent new content, to flow out regularly across each and every month.

Groundwork activities. Ridden workout plans. Mindset, goal-setting and planning activities. Rider education and development tools. Facebook training and challenges. Expert interviews. Lives Q&As and group coaching. There is something for everyone and a wealth of new content to explore.

Variety keeps you interested. Coming back for more. Continually growing, learning and progressing. Motivated to take action. Enjoying the ride (quite literally!)



The #TeamRTS Champs with Stamps community is the most supportive, passionate, friendly and inspiring group of standy fans in the world. As a member, you'll get access to the community.
Standardbred retraining is tough sometimes, but you don't need to go it alone. One of the best things to do is get advice from people who have already overcome your issues, and the Champs with Stamps community is full of those types of people.
We believe the key to standy success is to surround yourself with people who will inspire you.
Motivate you.
The ones who will be there in your corner, cheering you on .
Raising you up and supporting you .
People who believe in you and your dreams.
Those who see the unharnessed potential of your standardbred.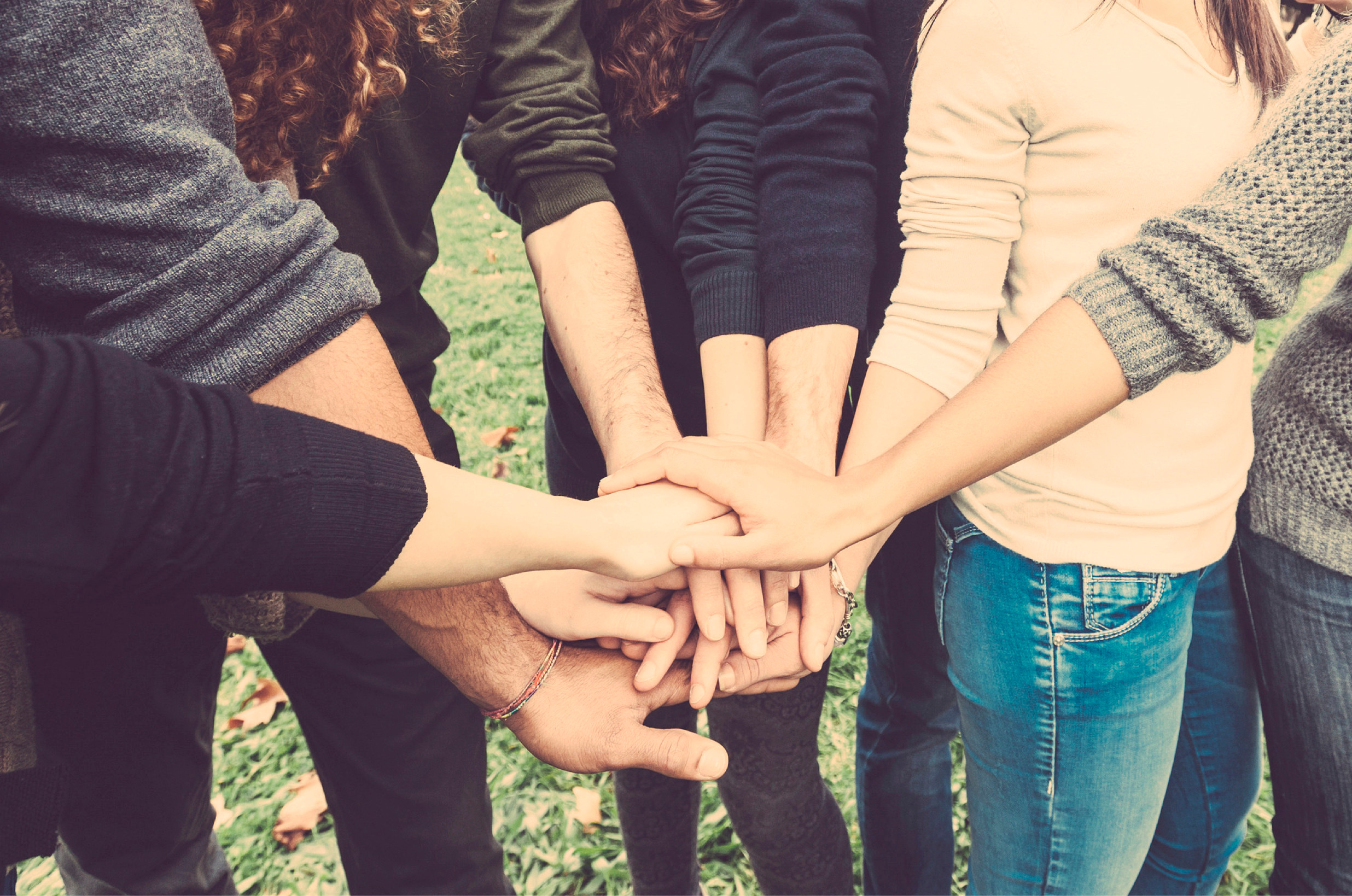 The Team RTS: Champs with Stamps Membership program welcomes riders of all experience levels, aspiring across a broad range of riding disciplines, pursuits and interests, to connect with one another in a private online learning space.


As a Champs with Stamps member, you will receive a wealth of resources and personalised support, for a small monthly fee.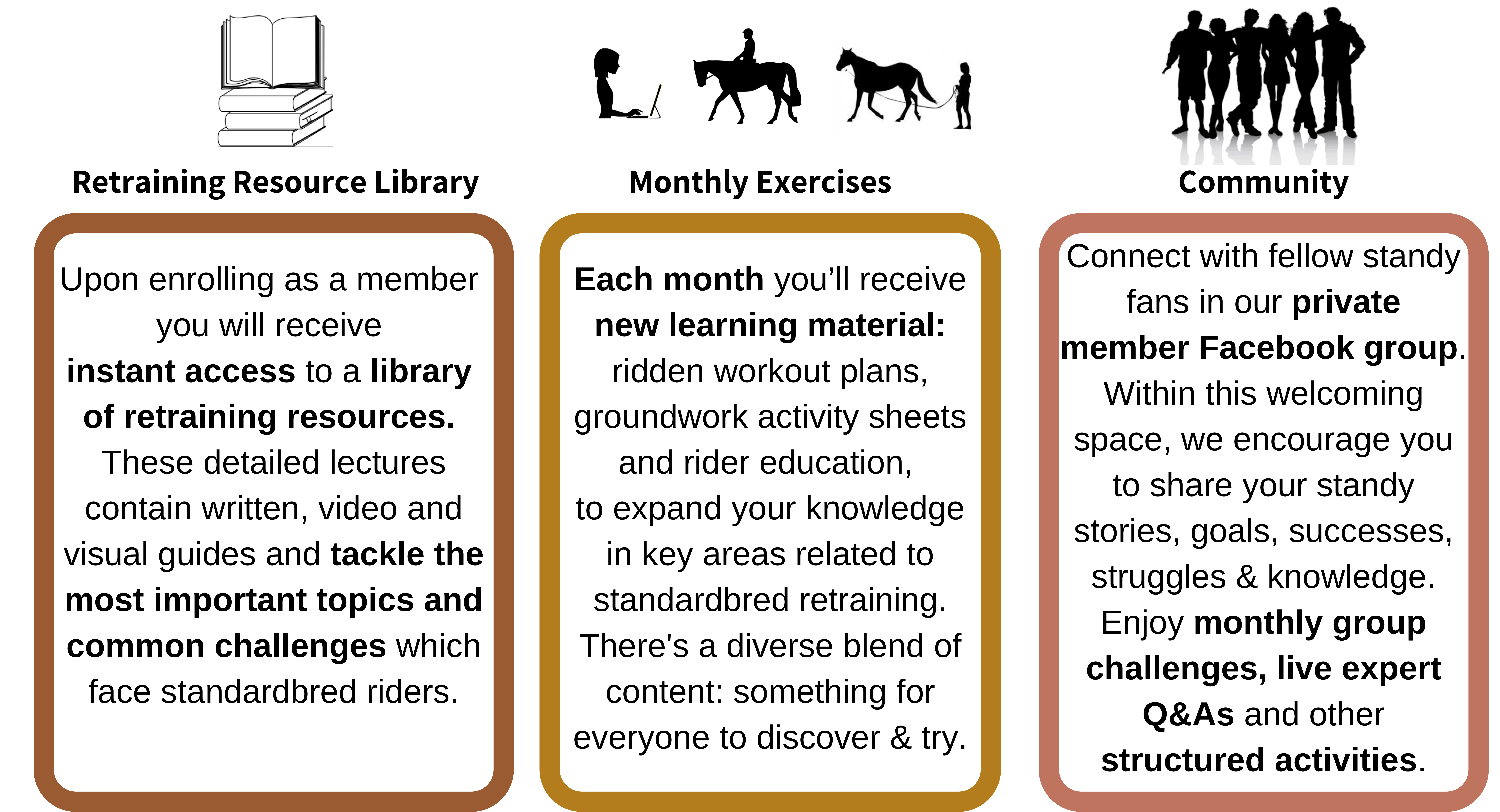 Spend a little, get a lot - no risk or obligations...

The casual nature of the Team RTS monthly membership allows you to cancel at any time, for any reason.
You're essentially tapping into a huge volume of content, for just $37. You can literally log in and read, watch, consume and download a whole heap of instant-access content, with no pressure to stay in the program for any set period of time.

If you don't learn a whole bunch of amazing new skills relevant to your retraining journey, find your tribe and absolutely love the program at the end of your first month - which we totally hope you will - you can simply opt not to renew, with no penalty.

We figure this arrangement offers a nifty way for standardbred lovers to sample the learning experience within our online school, as well as gain some invaluable expert tuition and peer guidance, without having to sweat over an expensive upfront commitment, or feeling 'locked in'.

Of course, we're aiming for every Team RTS member to find their place within our 'herd' and see the immense value in making a small commitment each month to continued growth and support throughout the retraining experience.