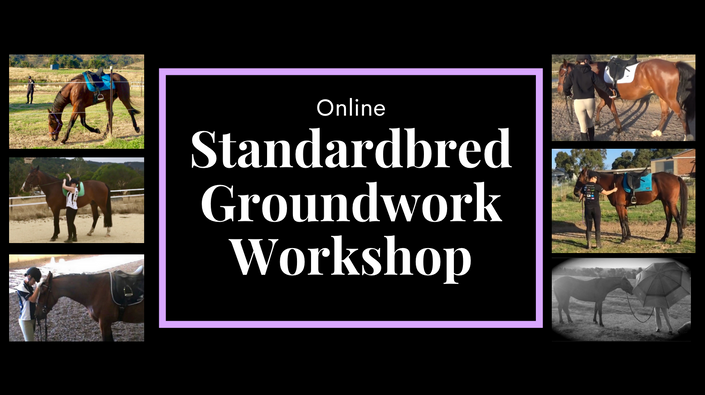 Standardbred Groundwork Workshop
Offering a second chance to a standardbred is pretty special ❤️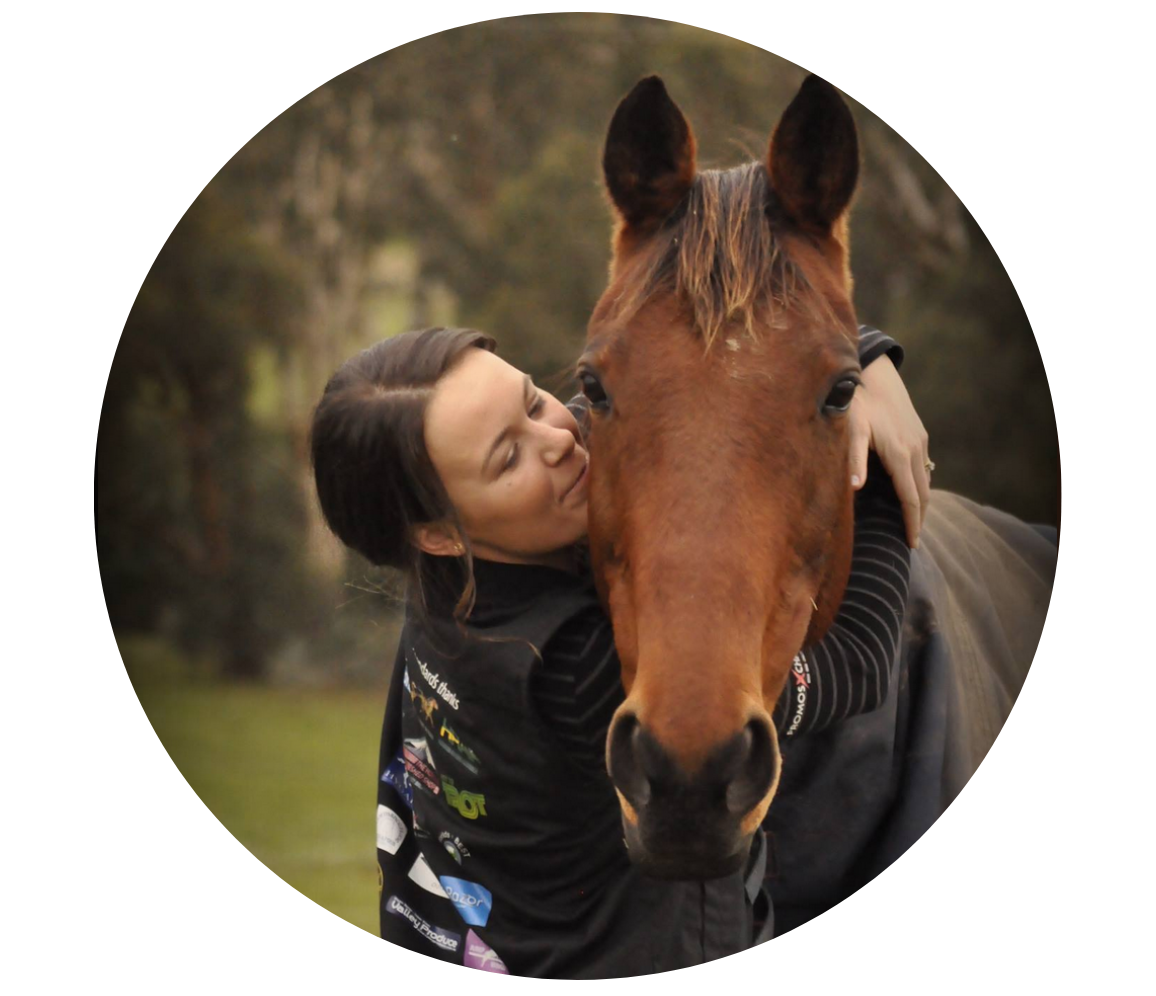 Guiding your horse into their new chapter, building a connection & developing your skills together 🥰🐴

But we're not going to sugar coat it....
the journey can also be confusing, challenging and sometimes a little overwhelming 🤯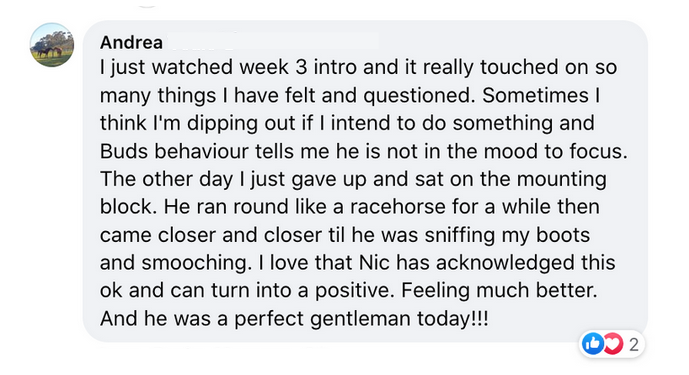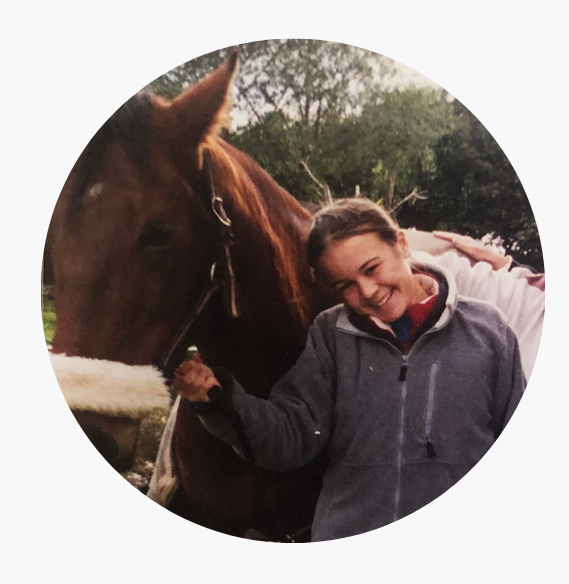 Back in 2001 when Raising the Standards' Founder Nic Tassone got her first standardbred, she didn't have access to the internet like we do today.

And there was nobody in her world who could provide advice on how to work through challenges based on real-life experiences.

This meant everything Nic achieved with her young standy came from following her instincts, making many (many) errors, overcoming frustrations and riding endless circles in the back paddock until the pieces fell into place.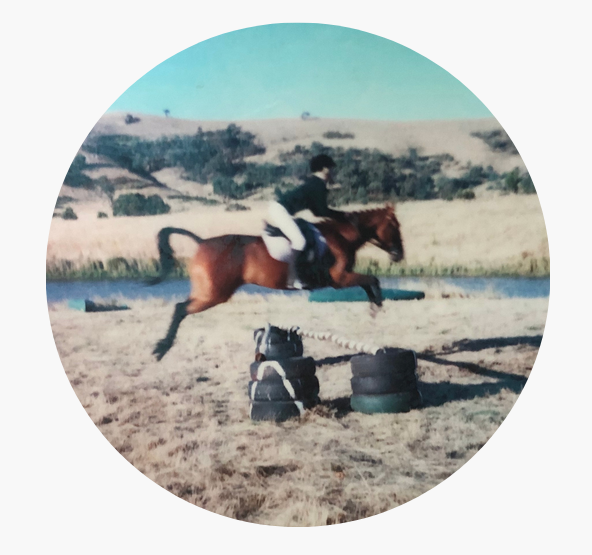 Although all of that hard work is credited to teaching Nic some of the most important lessons as a horse person, having to figure everything out for herself was exhausting and definitely the hardest path to success.
Nearly two decades on, the Online Standardbred Club was born from Nic's burning desire to ensure no standardbred rider has to 'go it alone' like she did.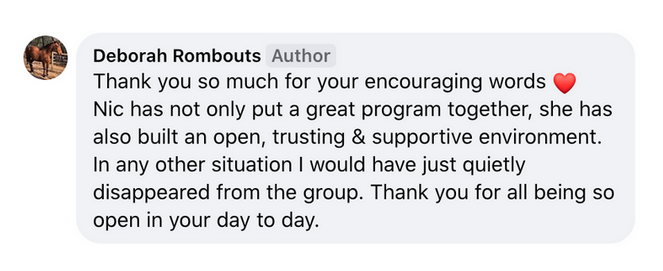 Today we can avoid the frustration and overwhelm from having to work through every retraining challenge on our own, by surrounding ourselves with people who 'get it'.

We can tap into knowledge💡 shared by those who've travelled this road before.

We can learn from other standardbred owners' mistakes 🙅‍♀️

And take on board invaluable advice that comes from firsthand experiences partnering with such a unique breed of horse 🤜🤛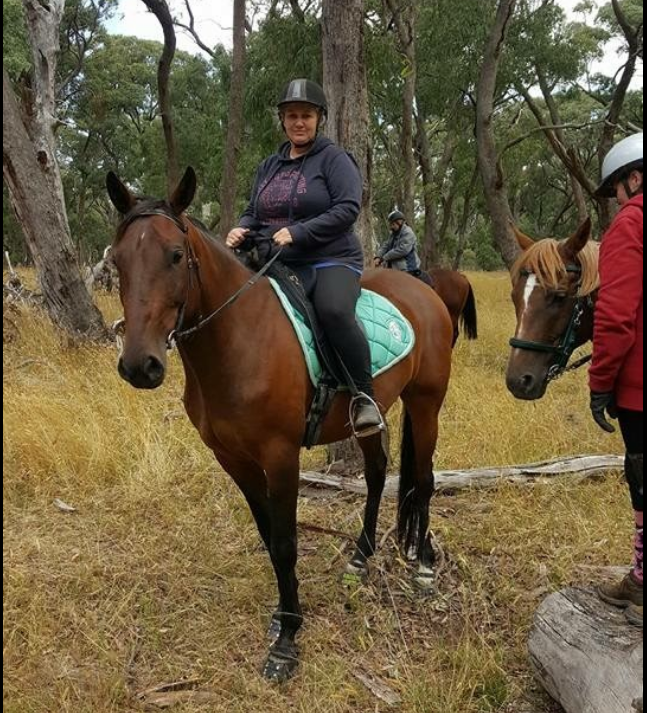 "Everyone in this group is kind, helpful and always willing to offer advice. No one is judgmental, as we are all on our own journeys. I love this group and it allows me to grow as a rider and trainer. This is a really safe space and always positive."
- Penny S, Victoria
Fortunately, standardbred owners are some of the most wonderful people you'll ever meet 🙌

Standy folk are incredibly generous when it comes to sharing their knowledge ❤️
as quirky, friendly and interesting as their horses 🙃
and oh-so supportive (cheering the loudest when others find success 🎉)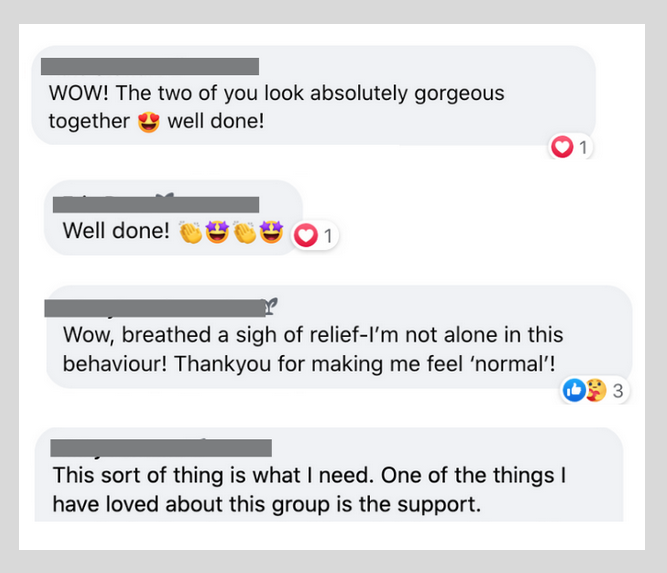 The Online Standardbred Club brings standy owners from all around the world together, into a vibrant learning community.

The group is made up of a mish-mash of standardbred lovers, each with different experiences, interests, advice and of all ages (we have juniors participating with parents, through to mature riders well into their 70s!)

It doesn't matter whether you've been a horse person for 10 years or 10 weeks.

Whether you're into exploring the trails, strutting in the show ring, or simply hanging with your horse.

An old hand in the equestrian world, or growing in confidence and experience.

Everyone is welcome in the Online Standardbred Club.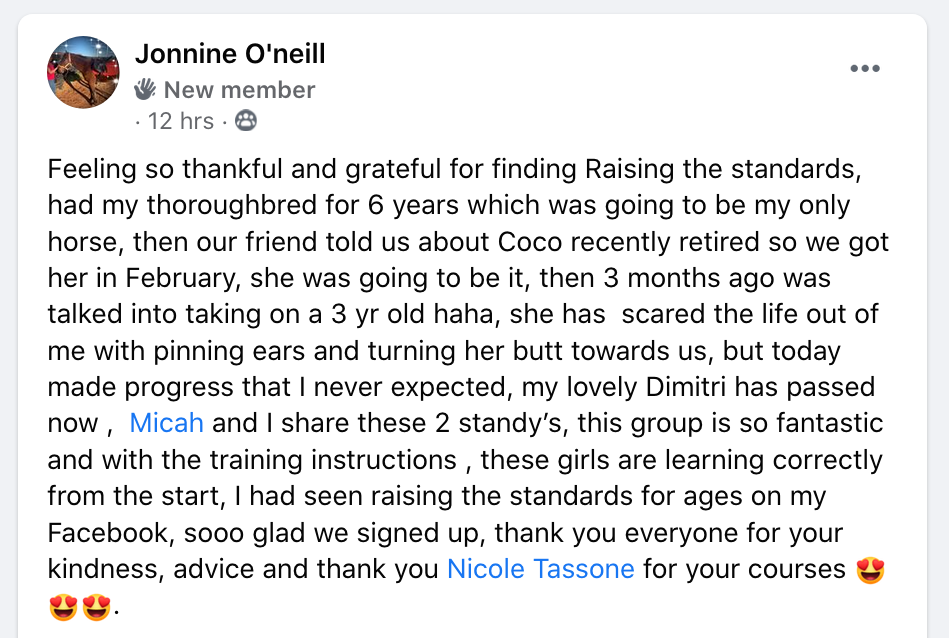 What you get as an Online Standardbred Club Member:

Participation in educational workshops, trainings and challenges
(including video tutorials, discussion threads & downloadable worksheets)
Exclusive content, such as guest expert interviews with leading equine professionals
24/7 access to a global network of standardbred lovers, there to answer your questions, share stories, support you through retraining challenges and be your biggest cheer squad!
10% off all standardbred clothing and giftware
We understand that life is busy and have kept this in mind when creating content and a positive, low-pressure learning environment.

As a member, you'll get access to a student portal website where you can work through lectures and video trainings in your own time and go back over content as much as you like (never forget a handy tip again!)

There is no expectation to 'keep up' with a set schedule of learning;
the program is entirely 'self-paced' (pun intended 😉🐴)

The private member Facebook group is where the community comes alive, with educational threads, live challenges, questions, 'standy brags' and general conversations and advice-sharing taking place between standardbred owners around the clock.

How much does Online Standardbred Club membership cost?

Online Standardbred Club membership is priced at just $29 per month.
It includes all of the features listed above.

This is a casual, month-by-month membership program, where you are not locked into anything.

Member fees are set up with convenient direct debit each month.

If you wish to leave, simply cancel your membership before the due date of your next debit and no more will be charged.



What if I'm not 'tech savvy'?

The Online Standardbred Club has been designed to be user-friendly.

When you enrol in the Online Standardbred Club you'll create an account on our student portal.

Whenever you wish to access learning material, you simply click over to the student website and enter your email and password to log in.

Content is organised into lectures, so you can work through modules one at a time and never lose your place, nor feel overwhelmed.

As long as your membership remains active, you can work through and go back over content in your own time, as much as you like.

The Online Standardbred Club is designed to suit busy lifestyles.

We get it; life really is crazy busy!

And for some of us, we have to squeeze horse time into an already bursting schedule.

Online Standardbred Club learning content is set out in a simple way, so you can pick up where you left off last time and go back over interesting lectures.

There's no set schedule you need to stress about keeping up with; make the program fit into your life.

Take your lessons out to the paddock - watch and try

You can log into the Online Standardbred Club student website on any device, which makes learning entirely portable.

You'll have the flexibility to watch a training video on your phone at the paddock and have a go straight away, or make use of that 'boot up' time lying in bed by reading through standardbred content!